Regular price
$49.00 USD
Sale price
$37.00 USD
Unit price
per
Sale
Sold out
Our Bucket Dog Car Booster Seat for Small and Medium Dogs, the ultimate companion for adventurous dog owners who love taking their furry friends on thrilling car journeys. Three must-have reasons: firstly, it enhances your safety as a driver by keeping your dog secure. Secondly, it safeguards your beloved vehicle from scratches and dirt. Lastly, it prioritizes the safety of your furry friend, providing them with a cozy and secure space during car rides.
Size Information
Care Instructions

Daily Cleaning: Remove dirt and pet hair by vacuuming or using a lint roller. Spot clean with a mild detergent and damp cloth for stains. Avoid harsh chemicals.

Washing: Remove detachable components and hand or machine wash on a gentle cycle with cold water and mild detergent.
Shipping & Return

Shipping: Free Shipping On All Orders! Our orders are usually processed within 48 hours, than the delivery may takes 5-10 Business Days depending on your location and carriers.
Returns: If you have any quality issues with your order and want to return or exchange an item, just email us at help@julibees.com within 30 days after order fulfillment, and we'll quickly respond with details to exchange the product or process a refund.
View full details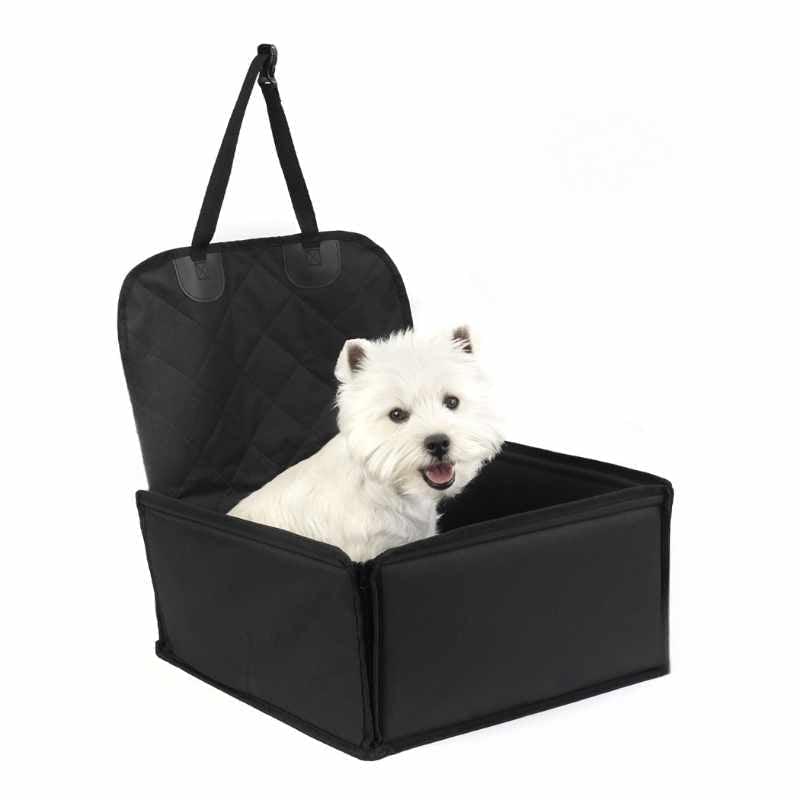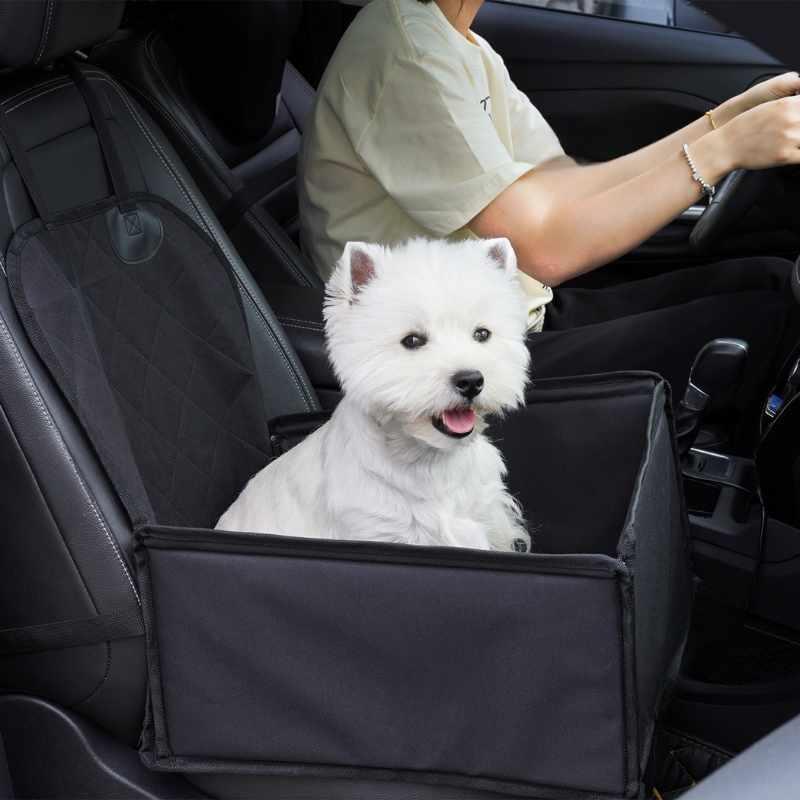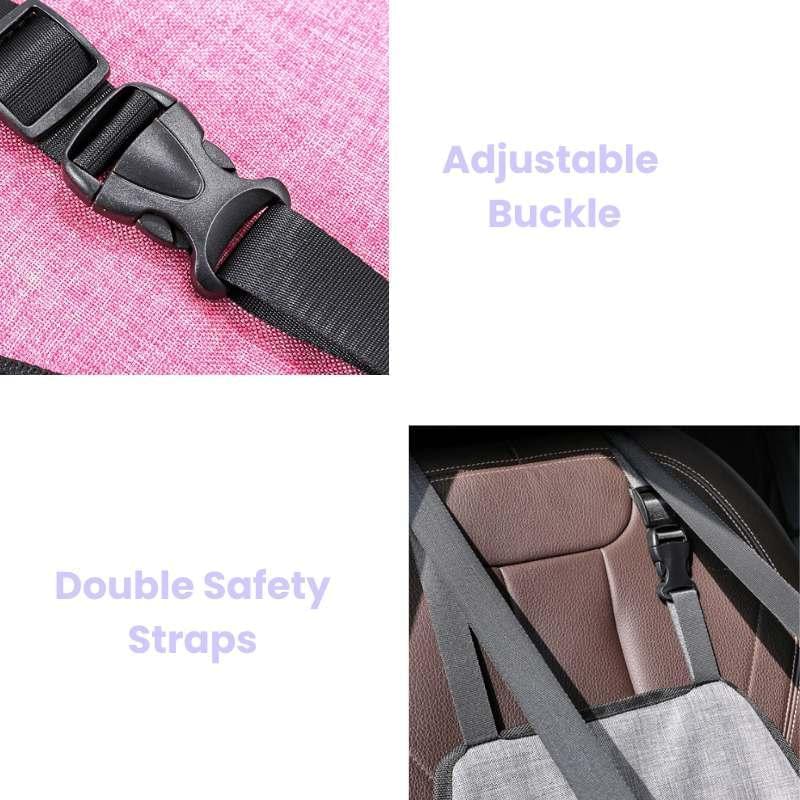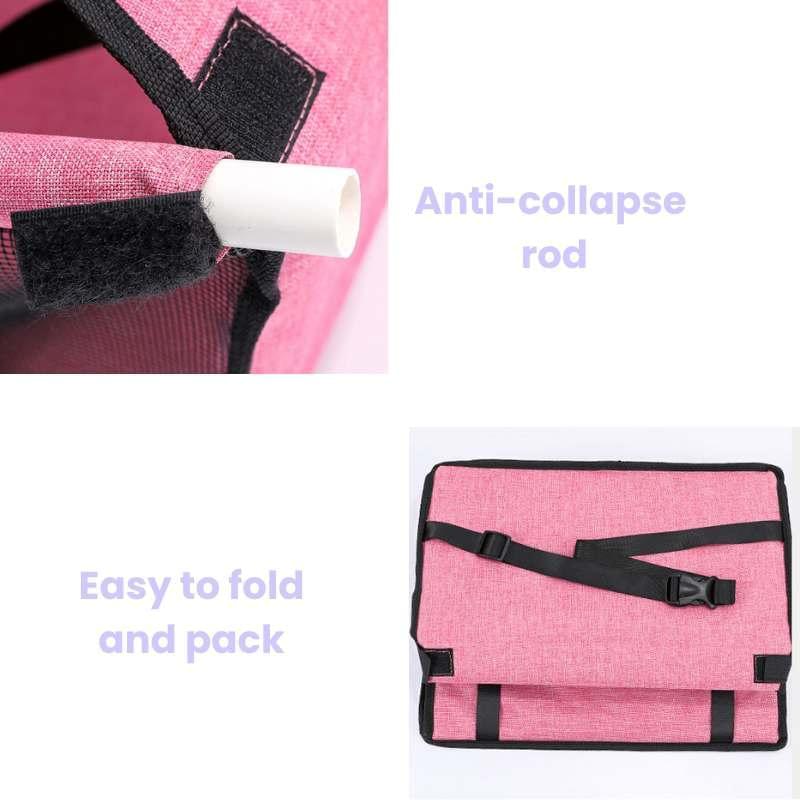 FAQs
Do I need a dog car seat?

For your dog's safety: dogs can be easily excited by the fast-moving scenery outside the car. It is indeed unfortunate that accidents have occurred where dogs unexpectedly jump out of open car windows without proper safety measures in place. To ensure the safety of your dog while traveling in a car, it is important to use specially designed dog car seats that secure them in place. 
For your car's safety: dog car seats would safeguard your car seats from potential damage like scratches, saliva or fluids.  Dog saliva or fluids does not typically have corrosive properties. However, prolonged exposure or a large amount fluids may have some effects on certain materials. 
For driver's safety: dogs are naturally active, which can distract the driver and affect safe driving. Dog car seats would restrain your dog in safe place.
Comfort & anti-anxiety: research has shown that a comfortable dog car seat can also help prevent symptoms like car sickness and anxiety in dogs.
Laws: UK The Highway Code states: When in a vehicle make sure dogs or other animals are suitably restrained so they cannot distract you while you are driving or injure you, or themselves, if you stop quickly. A seat belt harness, pet carrier, dog cage or dog guard are ways of restraining animals in cars
How does a dog car seat ensure my pet's safety during road trip?

Dogs are curious and can be excited by moving scenery during car travel. The fast-moving scenery outside the window can pique their curiosity. We have witnessed too many tragic incidents where dogs unexpectedly jumped out of open windows without any safety measures in place.

Our dog car seats are designed with safety features such as adjustable straps, harnesses, and secure attachments to keep your pet in place. They provide stability, prevent your dog from roaming freely, and minimize the risk of injury during sudden stops or accidents.
What should I consider when choosing a dog car seat?

Consider your dog's size and your preferred positioning:

Consider the specific usage scenarios: Daily commuting should focus on durability and comfort; Outdoor travel may emphasize lightweight and multifunctionality.
Any specific features and parameters to consider?

Size: Ensure that the dog car seat is suitable for your dog's size and dimensions.
Fabric: Pay attention to the fabric's durability, washability, and water resistance. Common fabrics used are canvas, nylon, or polyester.
Padding: Most dog car seats are filled with polypropylene (PP) cotton. Check the quality and softness of the padding, which can be indicated by the seat's weight (heavier seats may have better padding).
Safety: Look for features such as adjustable secure straps, safety D-ring buckles for harnesses or collars, and non-slip bottoms to ensure your dog's safety during car rides.
Versatility: Some dog car seats can also function as a dog carrier bag or dog bed.
Do I need any tool to install and remove?

No. Our dog car seats are designed to be easy to install and remove. They often come with adjustable straps or buckles that can be securely and easily attached to the car seat.
 Can I put my dog and dog car seat in the car boot?

Yes, you can. Our large dog car seats are suitable for placement in the car boot. However, please make sure to measure the dimensions of your car's boot in advance. Additionally, I would like to add that if you place your dog in the car boot, please pay extra attention to your dog's condition and do not neglect them during long drives to prevent any accidents. For example, car boots often lack sufficient air conditioning, which can lead to overheating for dogs, especially during long trips and hot summers. Therefore, please make sure to keep the rear air conditioning at the maximum level and try to avoid long-distance driving on sweltering summer days.
Is it allowed to place dogs in the front passenger seat? 

The regulations regarding placing dogs in the front passenger seat vary depending on the country.

In the United States, there are no specific laws prohibiting dogs in the front seat, but it is recommended to secure them properly and ensure their safety.

In the United Kingdom, dogs can be transported in the front seat if properly restrained or using a suitable dog car seat.

In Australia, it is generally allowed to have dogs in the front seat, but they must not obstruct the driver's view or control of the vehicle.

In Germany, dogs should be properly restrained in the car, and it is recommended to place them in the back seat or use a dog car seat.

In France, it is advised to use a dog car seat or proper restraints when placing dogs in the front seat.
How to prevent anxiety in dogs during car rides?

In addition to providing a comfortable dog car seat, here are some suggestions:

Keep your dog close to you, such as in the front passenger seat.
Bring some familiar toys that your dog enjoys playing with to create a sense of familiarity in the unfamiliar environment.
Place some of your old clothing in the car to allow your dog to detect your scent more prominently.
How do I clean and maintain a dog car seat?

Cleaning and maintenance instructions may vary depending on the specific dog car seat model. In general, most car seats have removable and washable covers that can be cleaned in a washing machine.
Do you offer free shipping?
Can I have a free return?